"How-To" Guide for Homeless Service Provider
In 2014, Housing CA sponsored Assembly Bill 1733 which was signed into law. The law allows individuals experiencing homelessness to:
Receive a certified copy of his/her birth certificate from the County Registrar's Office (in the county in which the person was born). Learn more about free birth certificates.
Receive a state-issued photo ID from the Department of Motor Vehicles.
Please note that Housing California does not issue birth certificates or IDs.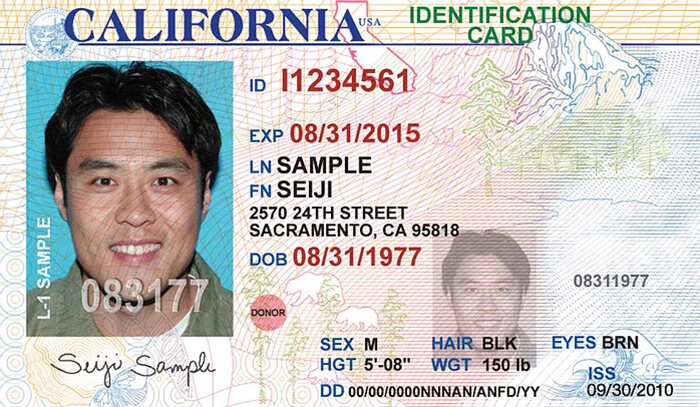 This law applies to California residents only.
The person wishing to obtain a California Photo ID will go through the regular process with the California Department of Motor Vehicles (DMV) to obtain a photo ID. The individual will need to meet all the usual requirements for documentation – the only difference is that he/she will also need to bring a "No Fee Identification Card Eligibility Verification" form (form DL 933) that has been completed by a homeless service provider) so he/she is not charged for the ID.
Frequently Asked Questions
1. Who is eligible to request a free state-issued photo ID?
Individuals who are California residents and experiencing homelessness or a homeless child or youth.
2. Who is considered a homeless person or child or youth? How can the county verify an individual as homeless?
View the definition of "homeless person" and "homeless child or youth." A child or youth refers to a minor under the age of 18 years. A homeless services provider, pursuant to Health and Safety Code (HSC) Section 103577(d)(3), is responsible for making the determination on who is considered homeless. The California Department of Motor Vehicles (DMV) is not responsible for verifying a person's homeless status. See number 4.
3. What is a "homeless service provider?"
i.) A governmental or nonprofit agency receiving federal, state, or county or municipal funding to provide services to a "homeless person" or "homeless child or youth," or that is otherwise sanctioned to provide those services by a local homeless continuum of care organization.
ii.) An attorney licensed to practice law in this state.
iii.) A local educational agency liaison for homeless children and youth designated as such pursuant to Section 11432(g)(1)(J)(ii) of Title 42 of the United States Code, or a school social worker.
iv.) A human services provider or public social services provider funded by the State of California to provide homeless children or youth services, health services, mental or behavioral health services, substance use disorder services, or public assistance or employment services.
v.) A law enforcement officer designated as a liaison to the homeless population by a local police department or sheriff's department within the state.
4. How does the DMV verify if a provider is legitimate? Is the DMV responsible for verifying this information?
Completed "No Fee Identification Card Eligibility Verification" forms should be accepted at face value. In this case, the requestor and homeless service providers are affirming as to the knowledge of the facts on the form.
5. Can the providers charge a fee for verifying the status of a homeless person or homeless child or youth?
No. AB 1733 states that providers may not charge a fee for verification of eligibility.
6. Is there a timeframe limit for an applicant to apply for a state-issued photo ID after receiving the verification from the provider?
A timeframe limit is not addressed in the bill and the DMV should not enforce one.