In 2014, Housing CA sponsored Assembly Bill 1733 which was signed into law. Individuals experiencing homelessness can now secure a free copy of their California birth certificate and/or free California photo ID card. Please note that Housing California does not issue birth certificates or IDs.
Can I get a free California photo ID?
Yes, you can if you are a California resident, experiencing homelessness, and can reach a place that provides services to unhoused people. Staff at emergency shelters or county human services offices can help you complete your photo ID fee waiver form. Please note that you will need two additional pieces of information. See Step 2 below.
At what age can you apply for a California photo ID?
You can apply for a California identification card at any age. The California Department of Motor Vehicles (DMV) issues two types:
A regular ID card.
A senior citizen ID card for residents over 62 years old.
Can I also get a photo ID for my child?
Yes. The process is the same for children as for adults.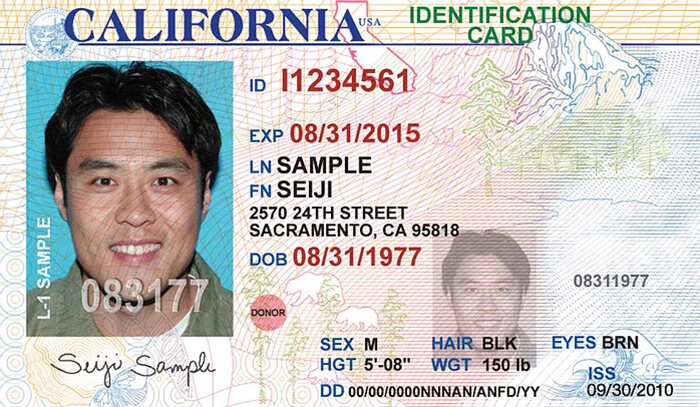 Step 1:
Go to a local human services provider or public social services provider and let them know you are currently experiencing homelessness and need a "fee waiver" to get a free California photo ID from the DMV. You can start by contacting your local emergency shelter or County human services office with staff who can guide you through the process.
Step 2:
After you have your "fee waiver" from the homeless service provider, make sure you have all of the following documents.
The "fee waiver" form from the homeless service provider.
Your Social Security number (SSN). If you are ineligible for a SSN but are legally present in the U.S., you can still apply for a CA ID card.
A "certified copy" of your birth certificate OR United States passport. (Note: If you do not have a certified copy of your birth certificate, you can obtain a free copy by going through these steps. The same person who helps you to complete your fee-waiver form for the DMV can also help you complete your fee-waiver form for your birth certificate.)
If your current name is different than it appears on your birth certificate or passport, you will also need to bring a document showing proof of your name change — such as:

Marriage certificate 

OR

Name change document showing both your original and new name 

OR

Adoption papers
Step 3:
Visit your local California DMV and bring your fee-waiver form, your Social Security number, and your certified copy of your birth certificate (or a United States passport).
When you arrive at the DMV, start at the Information Desk and let them know you are there to get a California photo ID.
You will need to fill out an "Identification Card Application" (Form DL 44). This form is not available online, you must get the form at the DMV. Housing CA does not have access to this form.
You will be asked to give your thumbprint.
You will have your picture taken.
Step 4:
You will receive your new CA photo ID in the mail within 60 days. If your ID card hasn't arrived after 60 days, call the DMV at 800.773.0133 to check the status of your application. You will need to have your receipt number.

Learn about free birth certificates
As of July 1, 2015, people experiencing homelessness can now get a free certified copy of his/her California birth certificate. Learn more.