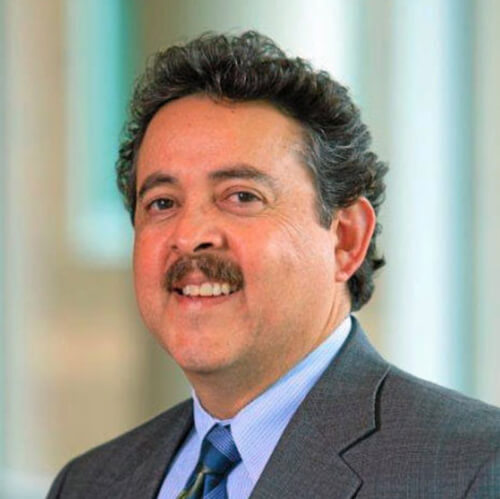 Treasurer
President and CEO, CHISPA
representing California Coalition for Rural Housing
As President and Chief Executive Officer of Community Housing Improvement Systems and Planning Association, Inc., (CHISPA) and CHISPA Housing Management, Inc. (CHMI), Alfred Diaz-Infante is responsible for the implementation of board policy, the overall administration of the development and direction of corporate programs. To date, CHISPA has developed more than 2,300 affordable housing units in the Central Coast of California.
Alfred has 26 years of experience in the real estate development industry. His experience includes project financial analysis, project and property management, and land acquisition.
Alfred serves as a trustee on several nonprofit and educational institution boards, including current President of the Hartnell College Foundation, the Community Foundation for Monterey County, Big Sur Land Trust, York School, Youth Orchestra Salinas (YOSal), and Salinas Regional Sports Authority. He also serves on the Citizens Advisory Committee of 1st Capital Bank. Mr. Diaz-Infante served as a member of the Monterey County Planning Commission from 1993-1998.
He is the recipient of the 2003 Distinguished Fellow Award from California State University Monterey Bay for his work in community and public service. In 2004, he received the Ben Heller Award for Leadership and Courage from the Center for Community Advocacy, a nonprofit organization dedicated to improving housing conditions and opportunities for farmworkers and other low-income families in Monterey and Santa Cruz Counties. He is also the recipient of the Junior Achievement 2015 Monterey Bay Business Hall of Fame award.
Alfred holds an MBA degree from the University of California, Berkeley, with an emphasis in Real Estate and Urban Land Economics and B.S. degree in Finance from California State University, Sacramento.
Alfred was born and raised in Salinas, California. He is married and a father of three children.